Arranged just for you by the AAS Boston2023 Local Arrangements Committee
The Committee has arranged the following for your information and entertainment museum visits, musical interludes and a dance workshop, a mouthwatering list of places to eat, two-panel sessions and a movie viewing of local and wider interest.
Details will continue to post as events are confirmed.
Organized Sessions
"Boston Chinese Food": The Influence of Pioneering Chefs Buwei Yang Chao and Joyce Chen and the Foods of Boston's Chinatown
Women in Japanese Studies: Stories from the Field
---
Special Film Showing:
"Nuchi nu Miji -Okinawa's Water of Life"
A documentary exploring the complex relationship between Okinawans, the Japanese government, and the US military. Join us for a discussion with co-directors Jon Mitchell and Natsuko Shimabukuro.
Saturday, March 18, 2:05pm, Hampton, Sheraton Hotel
---
Performances – Dance and Sound! Get your moves in!
Opening Ceremony: Angkor Dance Troupe
Thursday, March 16, 5:00pm – 5:30pm
As the heart of the Cambodian Community, the Angkor Dance Troupe, established in November 1986 in Lowell, Massachusetts with the sole purpose to revive a culture once almost lost, is nationally recognized as one of the most accomplished and experienced U.S. – based Cambodian traditional arts organizations. Past performances and highlights include the White House, Philadelphia All-America City Competition, Boston's First Night, and more.
https://www.angkordance.org/
Member Reception: DJ Performance
Friday, March 17, 7:00pm – 8:30pm
Join us at AAS Member Reception and enjoy the Southeast Asian music presented by AAS member DJ Anthony Lovenheim-Irwin, Southeast Asian music.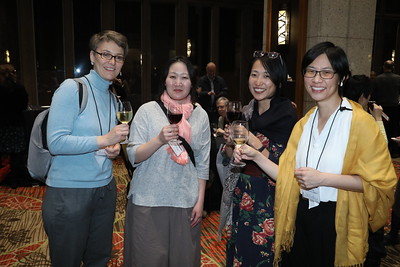 MIT Bhangra Club
Saturday, March 18, 7:45pm, Constitution Ballroom, Sheraton
Lively dance demonstration and workshop to get us all out there!

Gund Kwok: Women's Lion Dancers
Saturday, March 18, 8:30pm, Constitution Ballroom, Sheraton
Gund Kwok, the first Asian Women's Lion & Dragon Dance Troupe in the United States, was established in February 1998 to give Asian women an opportunity to express their creativity, power, and strength through performing the lion and dragon dances. Gund Kwok, which means heroine in Cantonese, symbolizes women's power and strength. Traditionally, women's power, strength and intelligence have been unacknowledged and hidden from public view. An old Chinese saying, "A heroine will not admit defeat to the hero" expresses women's hidden power. Gund Kwok strives to bring out this strength in all of the troupe's members. http://www.gundkwok.org/history–mission.html

Museums and Related Activities
Harvard Art Museums
Free admission for AAS Attendees with conference badge.
Excellent collections of Asian art on permanent display.
https://harvardartmuseums.org/
---
Isabella Stewart Gardner Museum
Free admission with conference badge.
Collections from ancient Rome, Medieval Europe, Renaissance Italy, Asia, the Islamic world and 19th-century France and America, installed in a Venetian Palazzo-inspired building.
https://www.gardnermuseum.org/
---
Boston Museum of Fine Arts
Free admission with AAS conference badge. Tickets are available only in person and same-day, not in in advance.
https://www.mfa.org/collections/asia
---
Peabody-Essex Museum, Salem, MA
(About $8 and 30 minutes, by train from North Station)
Free admission with conference badge. Excellent collections of Asian art on permanent display, including Yin Yu Tang, a merchant house from the Qing Dynasty. There are currently two special exhibitions on view with particular interest to AAS members: Power and Perspective: Early Photography in China and Spirits: Tsherin Sherpa with Robert Beer.
A self-guided tour of a Qing Dynasty merchant house on display at the museum is available for conference attendees. Spaces are strictly limited, and advance registration is required. 80 tickets are available! The tours will take place on March 18, 2023 at 12:15, 12:45, 1:15, and 1:45. These times are reserved exclusively for AAS conference attendees, but due to space restrictions, only 20 people at a time can enter the house. We highly encourage visitors to reserve a timed ticket in advance by emailing Ms. Akiyo Nishiyama (akiyo_nishimiya@pem.org). AAS visitors may also request a timed ticket to view Yin Yu Tang whenever they visit the museum from March 16-19,
https://www.pem.org/visit/yin-yu-tang
https://www.pem.org/whats-on/exhibitions/2023-02-01/7
https://www.pem.org/exhibitions/spirits-tsherin-sherpa-with-robert-beer
---
Special Exhibition and Workshop
In the Making: Wasen and the Lessons of Japanese Wooden Boatbuilding
Reischauer Institute of Japanese Studies, CGIS South Concourse, 1730 Cambridge Street, Cambridge
Come see a 21-ft wooden Japanese river skiff built by students this winter using traditional Japanese tools and techniques and learn about Japanese apprenticeship and craft. Exhibit is open to the public through the end of March.
Korean Object Study Workshop (KOSW), organized by CKS together with the AAS Local Arrangements Committee and the Harvard Art Museums
Thursday, March 16, 3:00pm-4:30pm
Meeting point: Art Study Center, level 4, Harvard Art Museums
https://rijs.fas.harvard.edu/in-the-making-wasen-and-lessons-japanese-wooden-boatbuilding
Participation in this workshop is free of charge. Please note that the Harvard Art Museums are waiving admission fees for all AAS registrants during the conference. Students of all ages/institutions are also always free (must show school ID). To participate in this workshop, please register at this Google form. The number of participants is limited to 15. Registration will be accepted on a first-come-first-served basis.
Participants will be able to view a variety of objects and materials that are currently not on view in the galleries, including modern and pre-modern Korean painting, embroidery, print, photography, and ceramics. This year's workshop will be led by Maya Stiller, currently Chair of the Committee on Korean Studies and Associate Professor of Korean Art & Visual Culture at the University of Kansas.
KOSW is a new initiative organized by the AAS's Committee on Korean Studies (CKS) with the purpose of encouraging Asian Studies scholars to incorporate Korean visual/material culture in their teaching and research. While this event is particularly geared towards Committee on Korean Studies members, general AAS members are warmly welcome to join.
---
Around Town
Corky White has curated a very special list of dining options in around Boston including local favorites and restaurants ranging from Chinese, Vietnamese, South Asia fare, to the best Italian, Pizzerias, donut and coffee shops.
The full list of restaurants can be found here.
This list will also be available in the Mobile App (launches March 1).
---
WALKING TOURS:
WalkBoston has wonderful self-guided walks for you, neighborhood by neighborhood:
https://walkboston.org/resources/maps/
---
A Special Evening with Boston Chinatown Tours
AAS panelist, Jacqueline Church, is the owner-operator of Boston Chinatown Tours. BCT has been awarded the Traveler's Choice Award twice.

For this conference of accomplished Asian studies academics, BCT is offering a customized evening in Chinatown on March 17. We'll meet at the paifang (gate) and stroll through Chinatown to learn some of the unique aspects of Boston's Chinatown. We'll discover some lesser-known gems, including murals and gift shops. As we stroll, we'll point out places to visit on your return. We'll wrap up with a light meal and drinks.
This private tour has limited seating. Fee is $127.50 PP ($120 PP +6.25% tax.)
To join, write directly to Jacqueline Church, putting "AAS Chinatown Tour" in the subject line: jacquelinechurch.consulting@gmail.com


---
Music Scene
Boston has so many great people, places and things to see we can't possible list it all here.
Jazz
Classical and Modern:
Global Music events
Irish music abounds and especially around St. Patrick's Day (March 17) in Boston:
But some of us go to: