This AAS Digital Dialogue is first of two webinars held in conjunction with the AAS Film Festival "Re-envisioning Asia: Contestations and Struggles in the Visual Arts"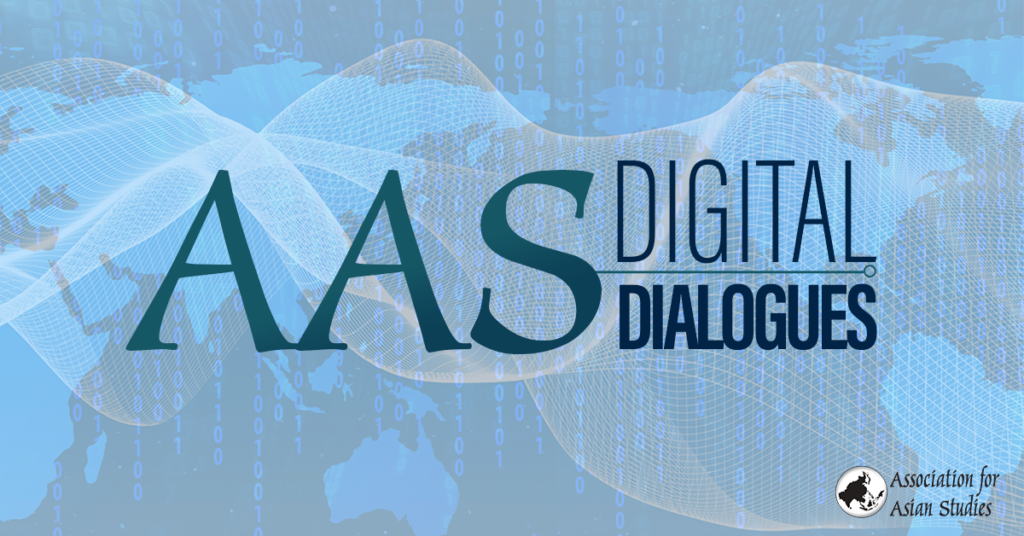 Friday, September 24, 2021
11:00 AM -12:30 PM Eastern Time
Our first Digital Dialogue held in conjunction with "Re-envisioning Asia: Contestations and Struggles in the Visual Arts" AAS Film Festival engages with a set of rich, multi-layered films and shorts from Bangladesh, Brunei, Cambodia, and India. Covering a wide range of subject matter – from a teenager's struggle over sexual identity to fishermen wrestling with the use of satellite technology, these powerful visual texts are held together by a common backdrop — the frayed promises of post-colonial nation-states in a neoliberal time 'after' development. Contradictions of 'tradition' and secular modernity are woven through many of these stories, as are forms of violence wrapped up in dreams of salvation of self and nation through migration, (im)mobility, and technological advances. It is in this broader context that individual protagonists grapple with the fractures and paradoxes of everyday survival, navigate incongruous longings and strained kinship obligations. The Covid 19 pandemic adds another layer, revealing new and intensifying older fissures, bringing to the fore tensions and disruptions of mobile lives and the emotional detritus left behind. The quest for equality, gender justice and citizenship turn these individuals into unruly subjects who defy – sometimes at great cost – conventions and stereotypes, as well as the terrors of a militarized, occupying state.
This session will feature panelists Sopheap Chea, Rubaiyat Hossain, Sarvnik Kaur, Rany Phok, and Elizabeth Sim with session moderator Dina Siddiqi.
---
Interested in the Film Festival "Re-envisioning Asia: Contestations and Struggles in the Visual Arts"?
---
Free and open to the public thanks to generous support from the Asian Cultural Council
Session Speakers
Sopheap Chea
Executive Director of The Bophana Audio-Visual Center
Born in 1984 in Cambodia, Sopheap grew up with a family who experienced and went through the infamous Khmer Rouge regime in Cambodia between 1975 and 1979. He earned his Master of Arts in History at Khemarak University in 2012. Chea is a historian, who from a young age was curious about stories of life in Cambodia before he was born. That curiosity is what led him to Bophana Audiovisual Resource Centre, initially as an Archivist and today as Executive Director.
The Bophana Audio-Visual Center was founded by visionary film director and Academy Award nominee Rithy Panh along with Ieu Pannakar, former Senator and Minister of the Royal Palace, with a view to preserving the visual memory of Cambodia's past. Through thousands of films, documentaries, TV coverages, and photographic archives, the mission of the Bophana Audio-Visual Center is to provide young Cambodians (from Khmer and ethnic minorities) with an appreciation for cultural preservation and vocational training to develop their knowledge and cinematographic skills. The Center has successfully launched a series of documentary projects ranging from the 'One-dollar' project, which records the lives of the Cambodian poor, to amplifying the voices of indigenous women and other maltreated groups, through sharing the personal stories of Khmer Rouge survivors.
Rubaiyat Hossain
Director of Under Construction (2016)
Rubaiyat Hossain is one of Bangladesh's handful of female filmmakers, known for her critically acclaimed debut feature film Meherjaan (2011) which faced political and cultural wrath in Bangladesh for its antiwar narrative, and its critic of masculine nationalism from a feminine point of view. Her second feature film Under Construction (2015) premiered at New Directors Showcase at Seattle International Film festival and was theatrically released and well received in Bangladesh. Her third feature film Made in Bangladesh (2019), based on real events portrays the life of a textile union president. Rubaiyat used ethnographic research in making the film. Made in Bangladesh premiered at Toronto International Film Festival and distributed by Pyramide Films. Rubaiyat uses a feminist lens in her cinema. She studied women's studies at Smith College and Cinema Studies at Tisch School of the Arts, New York University. Rubaiyat has worked with women's rights organizations in Bangladesh and taught gender studies at BRAC University.
Sarvnik Kaur
Director, Soz – A Ballad of Maladies and Against the Tide C&E Sheffield 2021
Sarvnik Kaur is a documentary filmmaker who strives to tell stories that hide anxiety and conflict just beneath the surface of the 'normal' and the 'mundane'. Her first feature documentary film Soz – A Ballad of Maladies explores the tradition of political resistance through music and poetry in Kashmir through the work of those poets, hip hoppers, musicians and artists who have turned their art into weapons of resistance during periods of heightened state repression and violence in the region. Despite being banned by Doordarshan (the National Broadcast Network), the film won President of India's 64th National Film Award for Best Debut Film in 2017. Soz also won Best Film at '11th Film Southasia Kathmandu' and Best Documentary at 10th IDSFFKerala.She has spent the past four years immersing herself in the Koli fishing community of Mumbai. She has made efforts to approach their lives and conflicts not just as a filmmaker, but as an ethnographer and a friend.
Sarvnik is currently working on a new film Against the Tide C&E Sheffield 2021, which tells the story of two fishermen, whose fraternal bond is threatened by the tides of COVID-19.
Rany Phok
Director of Don't Give Up
In 2015 Rany graduated in Economics at Royal University of Law and Economics in Phnom Penh.
"Women are as capable as men" is the statement that inspired Rany to leave her hometown and to study in Phnom Penh in 2010. In her community, there are two major issues affecting women and indigenous children: health and education. She aims to inform women in her community about the importance of education and to encourage them to pursue their dreams.
Elizabeth Sim
Bruneian based performing artist
Elizabeth Sim aka Liz is a Bruneian based performing artist who received her formal education from Brunei, Canada and recently the New York Film Academy in NYC. Her diverse talent as an actress ranges from stage to film performances whose recent work includes a theatrical production of "Eight Women" (2020) inspired by Robert Thomas's 1958 play and an original devise piece titled "Reunion" (2021) at Brunei's first National Theatre Festival, written and performed by her and her Drama Troupe – The Brunei Amateur Dramatic Society. Her latest films include "Akademi"(2020) an action/comedy feature film. Liz also conducts acting and improv workshops to aspiring actors and collaborates with other artists to cleverly craft original works discussing issues that are considered taboo in Brunei.
Session Moderator
Dina Siddiqi
Dina Siddiqi is Professor at NYU where she researches and publishes on a range of issues grounded in the study of gender and Islam in Bangladesh, the transnational feminist politics, women's work in the ready-made garment industry, the anthropology of human rights, gender justice, and non-state dispute resolution mechanisms.