This AAS Digital Dialogue is co-hosted with the Black China Caucus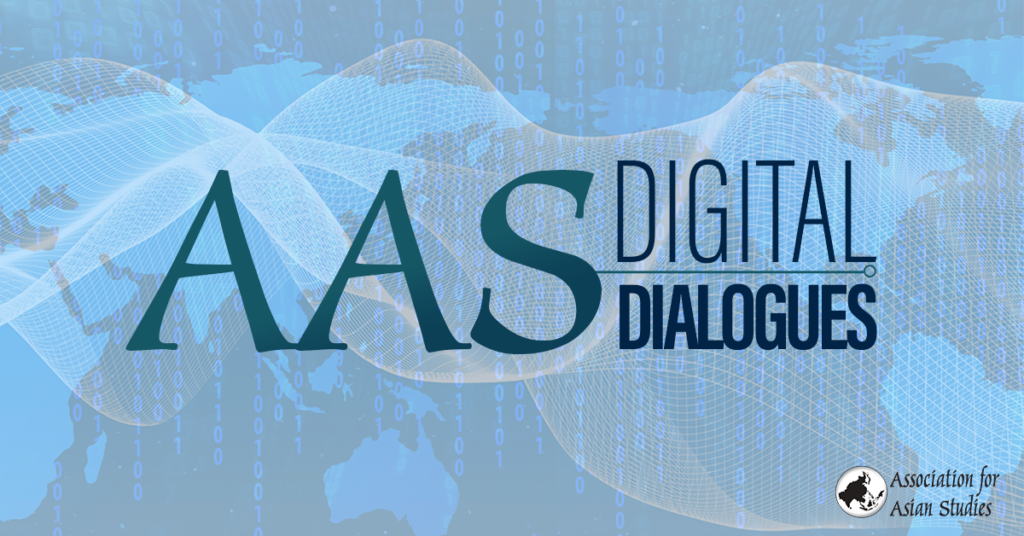 Monday, February 8, 2021
7:00pm Eastern Time
This Digital Dialogue is a Black History Month event jointly hosted by the Association for Asian Studies and Black China Caucus. Entitled "Black China Trailblazers," this moment of collective reflection and analysis will engage with the contributions of Black individuals to the China space. The discussion will be led by Dr. Keisha Brown, assistant professor of history at Tennessee State University; Mycal Ford; a China analyst focused on international illicit finance and tools of economic statecraft; and Mark Akpaninyie a researcher currently studying China's Belt and Road Initiative. The discussion will be moderated by Avonda Fogan, an education policy and public affairs professional.
The event will feature a 30-minute moderated discussion with Dr. Keisha Brown, Mycal Ford, and Mark Akpaninyie, followed by a 30-minute audience Q&A. Critical questions include: What are the legacies of Black China experts? How are we continuing the work they have begun? How do Black China experts continue to contribute to this space collectively? What is our role, both individually and collectively, in shaping the future trajectory of the China space? Please join us for what will surely be a night of lively and informative conversation.
Session Speakers
Mark Akpaninyie
Mark Akpaninyie is a researcher focusing on China's Belt and Road Initiative, Chinese investment and soft power abroad, and China-Africa relations. He previously worked at the Center for Strategic and International Studies (CSIS) as a research assistant in the Simon Chair in Political Economy and Reconnecting Asia Project. He has also worked as the Research and Special Assistant for the late Dr. Zbigniew Brzezinski at CSIS and as a researcher with the CSIS Freeman Chair in China Studies. Before joining CSIS, Mark lived in China for over three years, serving as a Fellow with Teach For China and then as a lecturer at Baoshan University.
Mark is a member of the National Committee on U.S.-China Relations, a member of the National Association for Black Engagement with Asia, a co-director of Young China Watchers DC, and a Young Leader with Pacific Forum. He graduated with a B.A. in Public Policy Studies from Duke University.
Keisha Brown
Keisha Brown is an assistant professor of history at Tennessee State University in the Department of History, Political Science, Geography, and Africana Studies. She graduated with her bachelor's degree from the University of Notre Dame, earned her doctorate from the University of Southern California, and was a 2018–2019 postdoctoral fellow at the James Weldon Johnson Institute for the Study of Race and Difference at Emory University. Dr. Brown is an Asian Studies scholar with a regional focus on East Asia specializing in modern Chinese history.
Her research and teaching interests include comparative East Asian histories, postcolonial theory, transnational studies, world history, and race and ethnic studies. Dr. Brown's research examines networks of difference in China used to understand the Black foreign other through an investigation of the social and political context that African Americans navigated and negotiated during their time in Maoist China. Her publication, Blackness in Exile: W.E.B. Du Bois' Role in the Formation of Representations of Blackness as Conceptualized by the Chinese Communist Party (CCP), analyzes W.E.B. Du Bois' performativity of race in China. Dr. Brown is currently extending her research on Sino-African American transnational relations to examine ideas of race and ethnicity and Afro-Asian diasporic connections, as evidenced by her blog post, "Teaching China through Black History" (Harvard University Fairbank Center), and essay, "Bridging the Gap: Blackness and Sino-African Relations" (International Institute for Asian Studies).
Mycal Ford
Mycal Ford is an open source analyst whose focus areas include international illicit finance and tools of economic statecraft. Previously, he worked at the Department of Defense, the Congressional-Executive Commission on China, the Center for Advanced Defense Studies, the Hudson Institute, and Sayari Labs, a Washington, D.C.-based tech startup. 
In December 2018, Mycal was named a Black American National Security Next Generation Leader by the Diversity in National Security Network for his contributions to U.S. national security. In September 2017, he served as a U.S. delegate to the first-ever U.S.-China Social Cultural Dialogue.
Mycal earned a Master of Arts in International Affairs from the School of International Service at American University and a Bachelor of Arts in Chinese Studies and Political Science from Pacific Lutheran University. During his studies, he received the Department of Defense David L. Boren Fellowship (China) and both the U.S. Department of State Critical Language Scholarship (China) and Fulbright (Taiwan). During his Fulbright, Ford used Hip-Hop dance to facilitate conversations around racial diversity in the United States to young Taiwanese students.
Mycal simultaneously holds the position of Co-Director of Diversity and Inclusion at the Boren Forum. He is also a Young Leader with Pacific Forum and a member of the Critical Language Scholarship Alumni Society.
Avonda Fogan
Avonda Fogan is the Senior Manager of Corporate Partnerships and Alumni Impact at KIPP Foundation. In her role, she works closely with the KIPP Through College and Development teams to establish partnerships with companies to secure internships for KIPP alumni. Previously, she was a Program Assistant on the Sustainable Finance team at JPMorgan Chase & Co (JPMC) where she provided executive support and assisted with projects related to JPMC's environmental, social & governance policies, impact finance initiatives, and sustainability efforts. Prior to JPMC, she spent four years at US-China Strong Foundation, a nonprofit organization focused on strengthening US-China relations through cultural exchange, where she assumed the roles of Research Assistant, Special Assistant to the CEO, and finally Director of Administration. As the Director of Administration, she managed the organization's programming & strategic initiatives, finances, human resources, and served as the Secretary to the Board of Directors. Avonda graduated from The George Washington University as a Stephen Joel Trachtenberg Scholar with a B.A. in International Affairs and Chinese Literature & Language. She speaks and reads Mandarin, is a mentor to high school girls of color based in in Arlington County, VA, and is a registered yoga teacher.