Bernard S. Cohn Book Prize
The Bernard S. Cohn Book Prize honors outstanding and innovative scholarship across discipline and country of specialization for a first single-authored English-language monograph on South Asia, published during the preceding year. Books nominated may address either contemporary or historical topics in any field of the humanities or the social sciences related to any of the countries of South Asia: India, Pakistan, Bangladesh, Afghanistan, Sri Lanka, and Nepal in the spirit of Barney Cohn's broad and critical scholarship on culture and history in South Asia. The prize aims to acknowledge two books, one in humanities and one in social sciences, for recognition each year.
Prize
$1,000 award for the author.
Guidelines for Submission
Books must have a 2022 copyright date to be eligible for the 2024 prize.
Prior publication of an edited volume, exhibition catalog, or translations without critical apparatus does not necessarily disqualify authors.
Publishers must complete the book nomination form. Each press may nominate a maximum of six books for the Cohn Prize.
Only publishers may nominate books.
Upon receipt of a completed nomination form, publishers will be provided with addresses for prize committee members. A copy of each entry, clearly labeled "Bernard S. Cohn Prize," must be sent to each member of the committee.
Books published by the Association for Asian Studies, Inc. are ineligible for consideration for prizes administered by the Association for Asian Studies. Employees of the Association are excluded from consideration for AAS book prizes, subventions, and grants. Publishers should check with authors to certify that they are not employed by the Association for Asian Studies, Inc. 
Deadline
The nomination deadline has passed. Award recipients will be announced in early 2024.
---
Cohn Prize Committee
A. Sean Pue (Chair)
Michigan State University
Harshita Kamath
Emory University
Malini Sur
Western Sydney University
Maria Rashid
London School of Economics
---
2023 Awards
Winner and Citations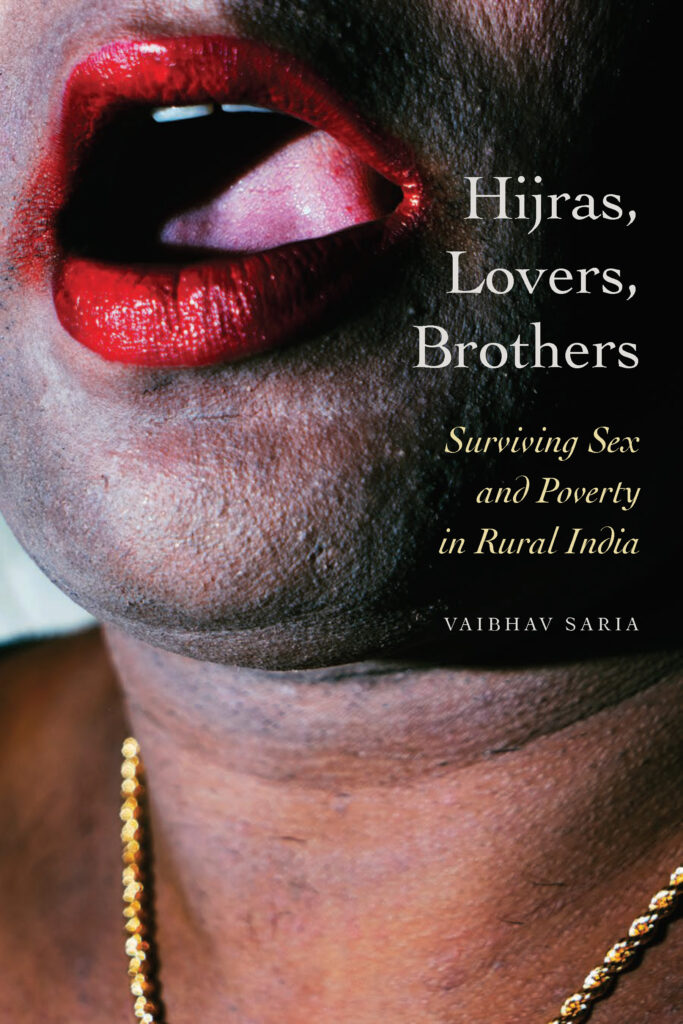 Vaibhav Saria, Hijras, Lovers, Brothers: Surviving Sex and Poverty in Rural India (Fordham University Press)
Vaibhav Saria's ethnographic account of hijras in rural Odisha is a profound meditation on life at the margins. Hijras, Lovers, Brothers draws out the multidimensional lives of hijras, saturated by everyday acts of love, care, laughter, and sadness in a context of rural poverty. Eloquently written, the book offers a deeply relational account of hijra life, situating both their precarity and centrality in Indian family life. It is also a moving account of how sexuality and erotic life are tied into the self-fashioning of a meaningful ethical life.
---
---
Honorable Mention
Past Awards
Bernard S. Cohn Book Prize

2012 Farina Mir, The Social Space of Language: Vernacular Culture in British Colonial India

2013 Jacob Dalton, The Taming of the Demons: Violence and Liberation in Tibetan Buddhism

2014 Davesh Soneji, Unfinished Gestures: Devadasis, Memory, and Modernity in South India

2015 Cabeiri deBergh Robinson, Body of Victim, Body of Warrior: Refugee Families and the Making of Kashmiri Jihadists

2016 Lotte Hoek, Cut-Pieces: Celluloid Obscenity & Popular Cinema in Bangladesh

2017 Sonal Khullar, Worldly Affiliations: Artistic Practice, National Identity, and Modernism in India, 1930-1990

2018 Nathaniel Roberts, To Be Cared For: The Power of Conversion and the Foreignness of Belonging in an Indian Slum

2019 Anna Marie Stirr, Singing Across Divides: Music and Intimate Politics in Nepal

2020 Sohini Kar, Financializing Poverty. Labor and Risk in Indian Microfinance

2021 Nosheen Ali, Delusional States: Feeling Rule and Development in Pakistan's Northern Frontier

2022 Durba Mitra, Indian Sex Life: Sexuality and the Colonial Origins of Modern Social Thought and Maria Rashid, Dying to Serve: Militarism, Affect, and the Politics of Sacrifice in the Pakistan Army