Hilary Finchum-Sung
Executive Director
hvfinchum[at]asianstudies[dot]org
734-391-1744 (direct); 734-665-2490, extension 109
I stepped into the role of AAS Executive Director in April 2019 after ten years in Korea where I was an Associate Professor of Ethnomusicology in the Department of Korean Music and Associate Dean of Students in Seoul National University's College of Music. My role at AAS includes being the conduit for communications with and between boards, committees, administrative staff, and the membership of the Association. I both oversee and engage in teamwork with our wonderful staff in handling conferences, finances, publications, and membership, as well as work with our staff and the Board of Directors in developing and implementing policies, programs, and strategic initiatives. For over twenty years, my academic work has centered on Korean music with a recent focus on the roles of women in sustaining traditional expressive culture in the southwest of Korea. I spend time away from the Secretariat working on academic publication, creative writing and translation projects, as well as engaging in musical practice on the violin/fiddle and haegŭm. Please feel free to contact me anytime.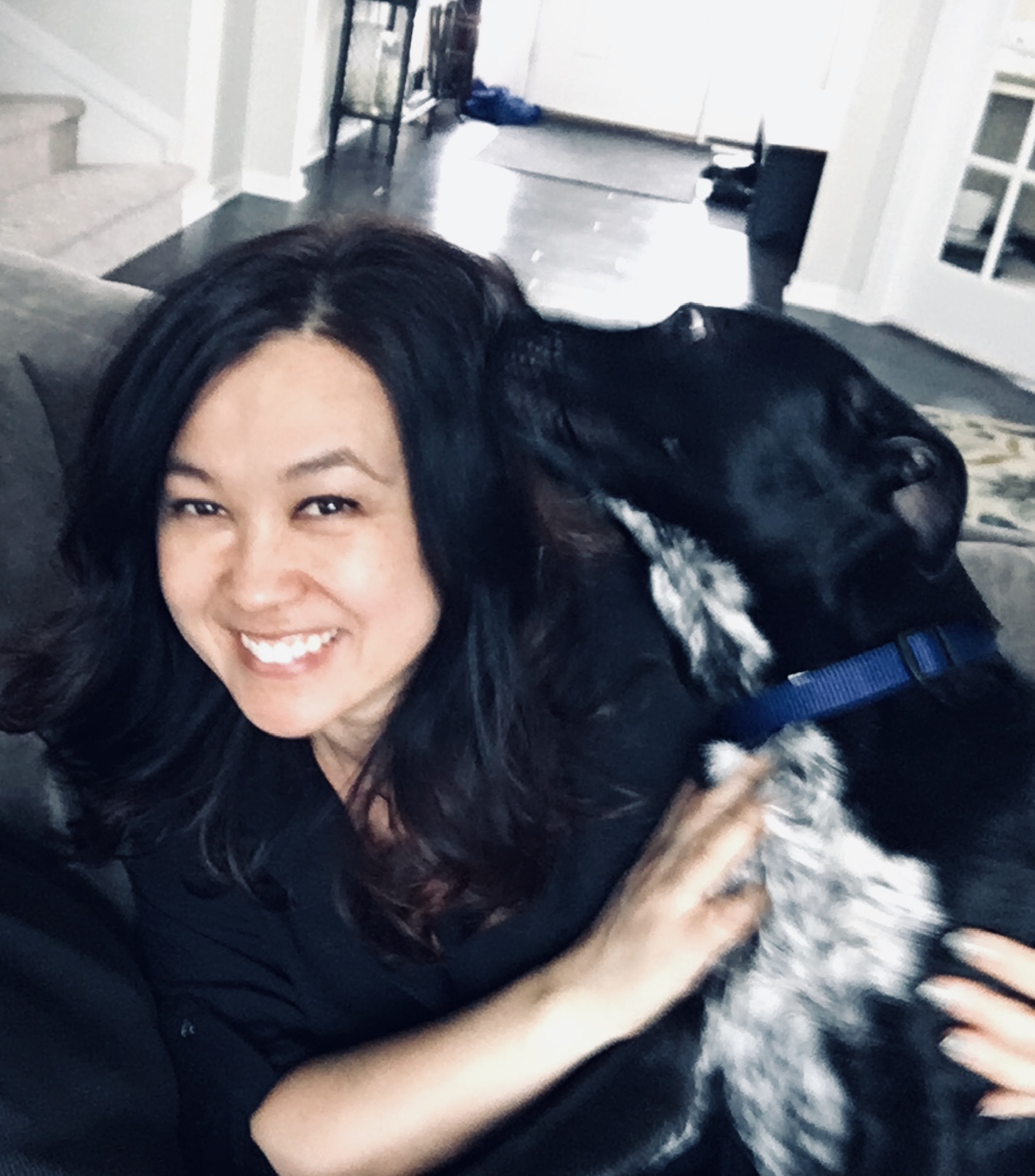 Angela Bermudez
Conference and Event Coordinator
abermudez[at]asianstudies[dot]org
734-391-1849 (direct); 734-665-2490, extension 104
Hello. As the Conference and Event Coordinator, my role provides support to the conference manager with logistics and planning related to the annual conference, along with helping support other AAS meetings and events, as needed. Before joining the association, I spent over 15 years working in marketing, public relations, and communications in non-profit organizations. In my spare time, I enjoy cooking, traveling, spending time with my family and taking long walks with my puppy, Simon. If you have any questions related to the AAS annual conference or meetings, please feel free to contact me.
Maura Elizabeth Cunningham (she/her)
Digital Media Manager
mcunningham[at]asianstudies[dot]org
734-391-1541 (direct); 734-665-2490, extension 108
My name is Maura Elizabeth Cunningham, and I've been the Digital Media Manager at the AAS since 2016. My affiliation with the association, however, began a decade before I started working here: I joined the AAS as a student member back in 2006, and I also worked as the Journal of Asian Studies editorial assistant while earning my PhD in modern Chinese history at the University of California, Irvine. At the Secretariat, my days are filled with posting to the AAS social media accounts, editing the #AsiaNow blog, and overseeing the association's online presence. Please email me anytime if you have questions, comments, or suggestions about any of those areas. I'm also always happy to speak with AAS members who are interested in exploring non-traditional academic careers, so don't hesitate to drop me a line if you'd like to discuss that topic!
Molly DeDona
Grant Programs Manager
mdedona[at]asianstudies[dot]org
734-391-1575 (direct); 734-665-2490, extension 106
Hello! My name is Molly DeDona and I started working at AAS the fall of 2019 as an intern. I graduated from the University of Michigan with a Master's Degree in Japanese Studies in 2020 and then became a part time Digital Programming and Content Assistant. In May of 2021, I became full-time AAS staff as Programs Assistant and Grants Coordinator. I also edit the video recordings of the Digital Dialogues series, edit the AAS website, assist in EAA subscriptions, a little bit of everything. Feel free to contact me with questions about grants, the Distinguished Speakers Bureau, or Digital Dialogues. よろしくお願いします!
Arlo Johnston (he/they)
Program Support Specialist
ajohnston[at]asianstudies[dot]org
As the AAS Program Support Specialist, it is my job to be the oil that keeps the wheels of our team turning. Though I only joined the Secretariat in February 2023, I have already worked with nearly all of our departments. From Finance to Grants, I've worked to ensure our affiliates and members have expedient, effective, and joyfully kind communication with us. I make it my goal to ensure that any and everyone I contact will hopefully have a better day than when we first communicated. And to ensure my team knows I have their back. No matter how small a task, I can always lend a hand.  
Outside of the Secretariat, I am a Senior at Eastern Michigan University studying Clinical Laboratory Science and have decided to go on to grad school after graduation! I am a fun-loving, kind, and compassionate person who loves to laugh, cats, and puzzles. I always seek to listen and learn with fervent attention. I encourage members to ask me their questions about the Association, chat with me about history, pineapple on pizza, and rubber ducks. No matter the topic of conversation I want to know: "How can I help you?" 
Robyn Jones, CMP, DES
Director, Conferences and Events
rjones[at]asianstudies[dot]org
734-391-1651 (direct); 734-665-2490, extension 103
As the Director of Conferences and Events, I am responsible for leading all planning related to event strategy and logistics related to the AAS Annual Conference, AAS-in-Asia, and other meetings and events. My background includes a M.S. in Hospitality & Tourism Management (Roosevelt University) and a B.A. in Communications (University of Michigan). I am a member of the Professional Convention Management Association (PCMA), National Coalition of Black Meeting Professionals and have a Certified Meeting Professional (CMP) and Digital Event Strategist (DES) designation. Please contact me if you have any general questions regarding AAS meetings and events.
Christopher A. Perez
AAS SIDA Grant, Project Controller
cperez[at]asianstudies[dot]org
As the AAS SIDA Grant Project Controller, my task is to guide valuable funding from the Swedish International Development Cooperation Agency to underrepresented scholars in South and Southeast Asia, as well as enhance the research capacities of numerous universities. My background involves accounting in the Petroleum, Oils, and Lubricants (POL) flight during my 10-year experience in the United States Air Force, as well as managing federal grants for nonprofit organizations. My priority in this position is to effectively and timely allocate funding throughout this project to secure our international partnership well into the future with the AAS. Please feel free to contact me regarding any stewardship of the SIDA grant project.
Krisna Uk
Director of Special Initiatives
krisnauk[at]asianstudies[dot]org
I joined AAS in May 2017 and my role involves developing new strategic initiatives and events, as well as relations with funders. Prior to joining the AAS, I was Executive Director at the Center for Khmer Studies, an American overseas research center based in Cambodia, designing and running programs focused on the history, politics, and culture of Cambodia and neighboring countries in Southeast Asia. My experience in Cambodia also includes overseeing landmine clearance programs and a period living in a remote village in the northeast of the country researching the impacts of the Indochina War on ethnic minority communities. This formed the basis for my PhD at Cambridge University. In addition to my interest in Asian art history and material culture, my favorite hobby is the practice ofMuay Thai, or Thai boxing.
William (Bill) Warner
Membership Manager
wwarner[at]asianstudies[dot]org
734-519-0084 (direct); 734-665-2490, extension 102
I joined the Association for Asian Studies in August 2021 as the Membership Manager. I am responsible for all things related to our member community, including individual and institutional memberships, renewals, benefits, and more. Before coming to AAS, I completed my graduate work in South Asian history at the University of Wisconsin-Madison with a focus on migration to, from, and within the subcontinent. In addition to teaching World, Islamic, and South Asian history at Beloit College and the University of Wisconsin-Madison, I worked for the Consortium of Humanities Centers and Institutes (CHCI) where I organized meetings and symposia in Addis Ababa (Ethiopia), Dublin (Ireland), and New Delhi (India). Away from AAS, I spend time baking bread, hiking, and gardening. Feel free to reach out if you have problems accessing your account, starting or renewing a membership, or any other questions about AAS!
Jon Wilson
Publications Manager
jwilson[at]asianstudies[dot]org
734-391-1569 (direct); 734-665-2490, extension 105
As AAS Publications Manager, I am responsible for publications production at the AAS Secretariat in Ann Arbor. I moved to Michigan from my hometown of Manchester, England, the year that Bill Clinton became U.S. president and joined AAS the year that the U.S. hosted the World Cup (i.e., it's been a few years!). I love books, movies, music and soccer. If you are looking for information about our three book series—ASIA SHORTS, KEY ISSUES IN ASIAN STUDIES, or ASIA PAST & PRESENT—or about our classroom/teaching journal, EDUCATION ABOUT ASIA, please e-mail me or visit the publications section of the AAS website. And if you attend the AAS conference, be sure to stop by the AAS Publications booth to say hello.
Jenna Yoshikawa
Advertising and Marketing Manager
jyoshikawa[at]asianstudies[dot]org
734-391-1658 (direct); 734-665-2490, extension 107
Konnichiwa! I am Jenna Yoshikawa, Advertising and Marketing Manager at the Association for Asian Studies. Being a native Guamanian of mixed Asian-European heritage whose first plane ride was before I could hold my neck up, I grew up appreciating the diverse cultures of the world. I have adventured through most of Asia and have enjoyed every minute. When you "do as the locals do," Asia is an exciting place with aromatic food and intriguing infrastructures. With a resume that ranges from hospitality to marketing, I utilize my work experience to creatively promote the study of Asian Studies internationally through advertising and marketing. At AAS, I am also responsible for third-party advertising, e-flyer communications, AAS Career Center, and all graphic design tasks.
MEDIA INQUIRIES: Please contact the Executive Director, Hilary Finchum-Sung.